Decommissioning Day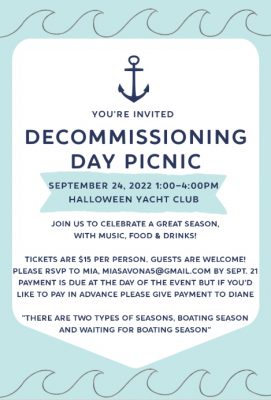 Dear Members,
Please join us for the 2022 Decommissioning Day Picnic on Saturday, September 24th from 1 to 4 pm.
To celebrate a great season, we will have a live band, catered food and plenty of wine and beer.
Tickets will be $15 per person. Guests are welcome. Please RSVP by 9/21/22 to Mia Savona by email, [email protected],  if you plan to join us and how many guests. Payment is due at the time of the event, but could be paid in advance to Diane.
We look forward to seeing you all there!  And remember, "There are two seasons, Boating Season and Waiting for Boating Season"
Mia Savona
Note: 2022 Decommissioning Day event has been cancelled.